CQC
Photo Gallery
Banquet 2000

It may take awhile for the thumbnail images to load... please be patient!
Click on the pictures to view in full size.
Scenes from the CQC Annual Banquet, 2/19/00
After some confusion and a change of venue, our annual banquet went off without a hitch. It was held at our usual meeting place at Bonfils Blood Center on the Lowry Campus, and catered by Luther's Barbeque. Awards were presented and door prizes donated by our generous sponsors were handed out-- everybody won something! The grand prize, an OHR100A transceiver kit, was won by Christina Agabekov, RZ6HZ, harmonic of WJ1R/UA6HZ.

The program, "A Brief History of Time," was presented by John Lowe, the Group Leader for Engineering Central for the Time and Frequency Division of the National Institute of Standards and Technology in Boulder. In other words, one of the guys who looks after the atomic clocks and the WWV/WWVB signals which are so important to us. It was a very interesting program, and we all learned quite a bit.

All photos by ABØCD, with thanks!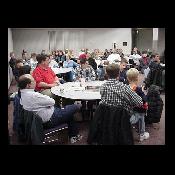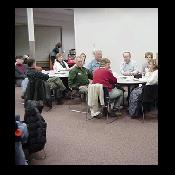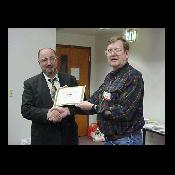 N1FN presents CQC's Gold Star Award to Larry, WJ1R/UA6HZ. The Gold Star Award recognizes efforts on behalf of CQC, QRP, and ham radio in general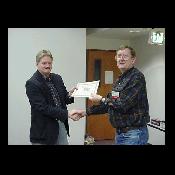 N1FN presents the President's Award to David, KIØND, for outstanding service to CQC by a non-officer or committee preson, and typified by David's emergency run to a 7-11 at the start of the Banquet to rectify a shortage of coffee cups.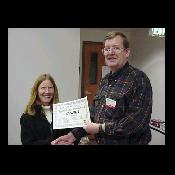 N1FN presents a Special Field Day Award to Donna, KA5WET, for her outstanding efforts in coordinating and operating the Novice-Tech Station at our very successful 1999 Field Day. CQC was first in 2A and SEVENTH OVERALL, and the Novice-Tech contribution was very important, apart from setting an all-time club record for a Novice -Tech effort.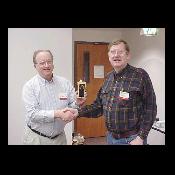 N1FN presents the Wooden Radio to CQC VP Rich, WØHEP, for attempting to activate WY from a location in CO in a national QRP field event.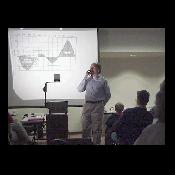 John Lowe's presentation on the History of Time was accompanied by a number of overheads illustrating some of the trickier points, such as the variation between sun time and clock time throughout the year.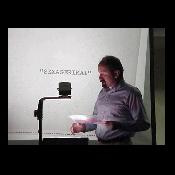 It was the Phoenecians who invented the sexigesimal calendar (use of 60 for counting seconds, minutes, and degrees) which we use today. The word has nothing to do with sex, aging, or animals.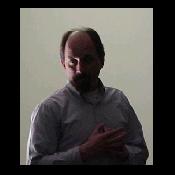 It's a bit hazy as I write this, but either John was demonstrating how a Time Lord can slip between past and future, or perhaps Dick was doing a bit of "artistic photography," or perhaps Dick is still learning the basic principles of exposure.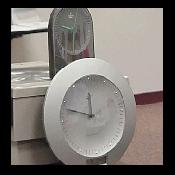 John brought two clocks which automatically synchronize themselves to the atomic clocks in Boulder, by receiving and processing the WWVB signal. The lower clock has just had a battery installed, to force the synch process. Shortly after the photo was taken, we got to watch the hands move around to the correct time. It's a lot more dramatic on an analog dial than on a digital clock.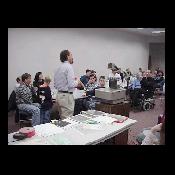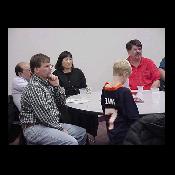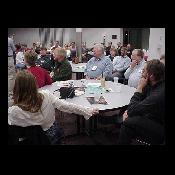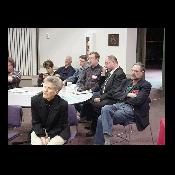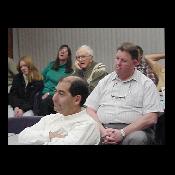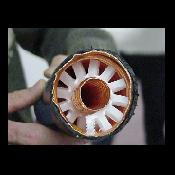 Talk about hardline! This is a section of the coaxial cable used to transport the 60KHz WWVB signal to the antenna array. It's an excellent example of coax using an air dielectric, and the center conductor is a good illustration of the "skin effect," that is, the fact that RF actually travels on the surface of a conductor. At RF a "hollow wire" is just as good as a solid one.

Return to the CQC Photo Gallery Index



Return to CQC Home Page


CQC Webmaster
Roger J. Wendell, WBØJNR
About | Contact | Home | Join | Meetings & Events | Members | Merchandise | Newsletter | Site Index |
Copyright © 1994 -