CQC
Photo Gallery
General Meeting - November 10, 2001

Did I miss any photos from the meeting?
Please send me what you've got and I'll post 'em here!
Email me at:

Phil and Kristen take Roger for a ride at CQC's November 10, 2001 meeting: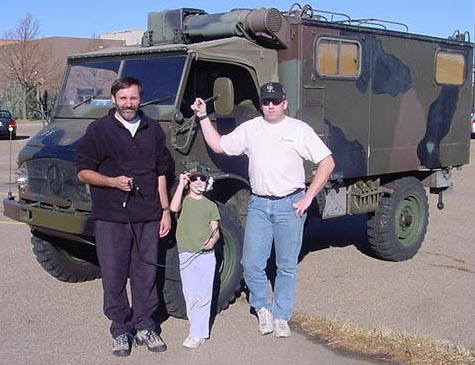 This ride was fantastic! Phil took his Unimog down a huge ditch, adjacent to the parking lot.
Despite a back-end full of radio gear this thing climbed us right out of the ditch - shouldn't
be any problems on snowy streets with this one!
In addition to a great meeting "Show and Tell" session, and other discussion,
Roger Wendell (WBØJNR, your humble webmaster) also presented slides
from his summer 2001 trip through Tibet, China and the Silk Road.

Return to the CQC Photo Gallery Index



Return to CQC Home Page



CQC Webmaster
Roger J. Wendell, WBØJNR
About | Contact | Home | Join | Meetings & Events | Members | Merchandise | Newsletter | Site Index |
Copyright © 1994 -