CQC
Photo Gallery
General Meeting - November 1998

Was this 1998? Your humble webmaster, while sorting through some old files, found this page clearly labeled "November," but with no inidcation of the year (even the file's creation date had been modified). My best guess is that this meeting took place in 1998 - please let your webmaster know if you know otherwise! Below is how the page appeared when I found the old dusty file sitting on our server in February of 2002:
At the bottom of the page you will find links to the full size images.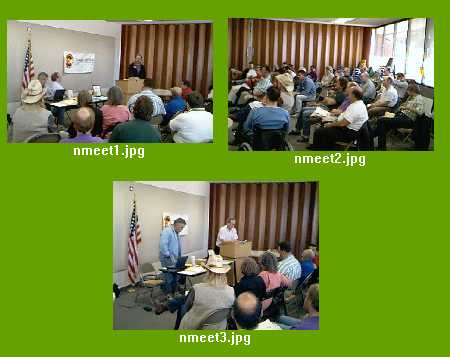 Upper left-- Walt Stinson, WØCP, holds his audience spellbound as he describes League politics..
Upper right-- The said spellbound audience.
Bottom-- What do you suppose Rich has put in Dick's drink?

Return to the CQC Photo Gallery Index



Return to CQC Home Page



CQC Webmaster
Roger J. Wendell, WBØJNR
About | Contact | Home | Join | Meetings & Events | Members | Merchandise | Newsletter | Site Index |
Copyright © 1994 -