CQC
Photo Gallery
Picnic Meeting 2004

Our annual picnic meeting took place on Saturday, September 18, 2004. We were once again back at our favorite picnicking grounds at Daniels Park - a 1,040 acre setting about 20 miles southwest of Denver. The weather was perfect and a great time was had by all!
CQC Wishes to thank the following for their kind donation to this year's picnic:
Vince Kumagai (KIØRB) - Home Depot Gift Certificate (1st Place Award)
Marshall Emm (N1FN) - Code Practice Oscillator Kit (3rd Place Award) & the use of his "Big Foot" Morse Machine!
Jim Pope (KGØPP) - Ice Cold Soft Drinks
John Hewitt (KA3RDZ) - Sausages!
Roger J. Wendell (WBØJNR) - Restaurant Gift Certificates (Two 2nd Place Awards)
Click on these thumbnail images for a larger view and to read the caption:
All Photos by Roger J. Wendell (WBØJNR)
except the two of him (#s 8 and 15) that were taken by Marshall Emm (N1FN)
| | | | |
| --- | --- | --- | --- |
| 1 | 2 | 3 | 4 |
| 5 | 6 | 7 | 8 |
| 9 | 10 | 11 | 12 |
| 13 | 14 | 15 | 16 |
| 17 | 18 | 19 | 20 |
Left Foot Morse Code Sending Contest!
(Text submitted by Roger J. Wendell - WBØJNR)
This year we utilized two judges (N1FN and KA3RDZ) who used a score sheet to track the performance of each contestant. Each contestant was required to use their "weakest" foot and allowed no more than 30 seconds (!) of practice.

After a that brief practice period, each contestant was given the following line of text to send:


"OH SAY CAN YOU SEE WHY I USE SSB?"
Winner - Larry Feick (NFØZ), CQC founding member visiting from Arizona, won this year's competition "hands" down! Larry was presented with a Home Depot gift certificate that was donated by KIØRB

Second Place - was split two ways between the even scores of Peter Inskeep (NO2D) and Jim Pope (KGØPP). Each were presented with a Chilli's Restaurant gift certificate donated by WBØJNR

Third Place - Roger Wendell (WBØJNR) was presented with a code oscillator kit that was donated by N1FN of Milestone Technologies

Our 2004 picinic was announced like this:
Saturday, September 18, 2004 - 11:00 a.m.

Here's the gang preparing to
"Run for the Trees in 2002!"
Bring your family to Daniels Park southwest of Denver for fun in the sun!
In addition to fun stuff for the kids, there will also be a Run-for-the-Trees, HT
radio toss (Shot-put the HT!), QRP Trivia and a left-footed CW sending contest!
Festivities begin at 11 a.m. sharp on Saturday. CQC will be providing soft drinks but asks that you
bring food for not only you and your family but an extra dish or two to share with the rest of us!

There will also be Gift Certificates and other
cool prizes so bring both your fun and your skill!!!
Driving Directions to Daniels Park (littleton, Co):
Take I-25 south from Denver to Exit 188 (Castle Pines Parkway)
Proceeding to the west from I-25, bear slightly to the left onto Castle Pines Parkway
Follow Castle Pines Parkway to the west, there may be construction toward the end of the street; Castle Pines Parkway turns into Daniels Park Rd.
Proceed slightly north on Daniels Park Rd. for approx. 1/2 mile; you'll be going up the hill to the top of the ridge. At the T intersection bear right and look for the pavillion on the hill to your left, about 1/4 mile north of the T. We'll probably be at the first turnout past the pavillion, on the left. Look for the cars with the antennas! Talk-in should be available on 146.445 simplex.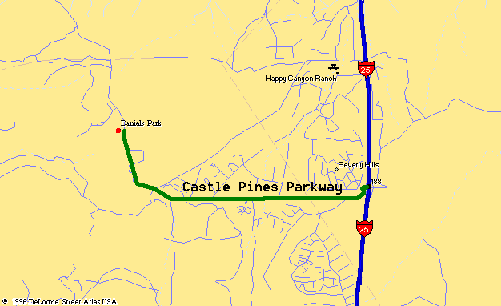 Return to the CQC Picnic Page


Return to the CQC Photo Gallery Index



Return to CQC Home Page



CQC Webmaster
Roger J. Wendell, WBØJNR
About | Contact | Home | Join | Meetings & Events | Members | Merchandise | Newsletter | Site Index |
Copyright © 1994 -