CQC
8th Annual Banquet

Our Febtruary 16, 2002 Annual Banquet was a smashing success!
Guest speaker Arnie Coro (CO2KK), of Radio Havana Cuba's
program "DXers Unlimited," wove a magical tale of radio, antennas and
friendship that will be remembered for many banquets to come!!


| | |
| --- | --- |
| | Click Here for more pix from our "Arnie Coro" banquet... |

Thank you, thank you!
2002 Banquet Vendors, Donors, and Volunteers:
(We couldn't have done it without you!)
Small Wonder Labs - PSK31 Transciever Grand Prize!
Oak Hills Research and CQC - Donated an OHR 500 transciever as a direct gift to Arnie Coro
American Radio Relay League - Lots and lots of publications for our drawing
CQ Magazine - Copies of Arnie's March 2002 article autographed by the author himself!!
WØHEP - International relations, ambassador, grand coordinator and CO2KK transportation specialist
(Although Rich gained some gray hair during the process, CQC is grateful for his management of the entire project!)
KIØOT - Vendor and Donor interface + banquet info/contact person
KIØND - David kept the "books" in order and adeptly handled reservations and admissions
ABØCD - Unoffical aid to Senator Ben Nighthorse Campbell and the U.S. State Department
Jay Marvin - WLS Radio talkshow host - helped us with airfare expenses in Cuba

Archive
Our 2002 Banquet
was announced like this:
The Colorado QRP Club is pleased to announce that Arnie Coro (CO2KK), of Radio Havana Cuba, will be the guest speaker at our annual banquet. Thanks to the efforts of Rich High (WØHEP), the host of the popular amateur radio program, "DXers Unlimited," has agreed to join us at our annual banquet.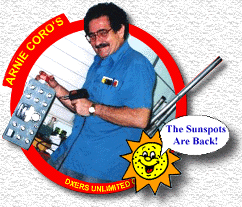 Radio Havana Cuba broadcasts Arnie's program twice each week* on the international shortwave bands. Arnie will entertain all of us, hams and non-hams alike, making this annual banquet one to remember.
Plan to attend the CQC Banquet in February. There will be great people, good food and lots of prizes! The number one reason to join us, however, will be to enjoy an evening with our friend, Arnie Coro. This is the biggest project the club has undertaken to date. We hope you will participate.
*Arnie's program is broadcast twice each week on Radio Havana Cuba. Their primary frequency is 9.820 MHz with Arnie's show appearing on Tuesday and Saturday evenings after 08:30 pm and 10:30 pm Mountain, following the news and sports.
Location:
Buffet Menu:

Blossoms Restaurant located in Heather Gardens near Yale and I-225 in Aurora.
$21 for paid CQC members and their guests**
$23 for non-members and non-paid members
$10 for children 12 and under

London Broil, Chicken Breast, Trout
Mashed Potatoes and Gravy, Rice Pilaf, Green Beans Almondine
Coffee, Tea, Soft Drinks
Mexican Flan
There will be a cash bar beginning at 5 p.m., Dinner will be served at 7 p.m., and the program will begin around 8 p.m.
**Yes, you can join right now and still take advantage of the member discount!!

Directions: (CRA Repeater Talk-in: 147.225 +600)

Blossoms is located at Heather Gardens. From I-225 take Iliff Ave. east to the first right at Blackhawk (Ruby Tuesdays). Go south on Blackhawk (becomes Abilene Street) and cross Yale Avenue into Heather Gardens. About 50 feet inside Heather Gardens turn right and the restaurant will be on the left approximately 1/4 mile ahead.

From Yale Avenue turn on Abilene Street into Heather Gardens. Turn right in side Heather Gardens and the restaurant will be on the left approximately 1/4 mile ahead.

Please send Dinner and Donation Checks, and Door Prizes to:


CQC Dinner
c/o Brad Mugleston, KIØOT
15879 East Arkansas Drive
Aurora, CO 80017
Email: kiøot@arrl.net
Phone: 303-752-0138

For Additional Dinner Information Contact:
Rich High, WØHEP
Email: CQCdinner@aol.com
Phone: 303-366-3114


In addition to the special program at our February 16th dinner, Arnie will do a special presentation on low-cost wire antennas at the ARA Hamfest, Sunday, Feb. 17, 10:30 am. If you live outside the Denver area, plan to spend the night and attend both the dinner and hamfest.

Click on these C02KK "Thumbnails" for a larger view of Arnie and what he's up to!
| | | |
| --- | --- | --- |
| G3KOX visits CO2KK | Satellite Antenna | Thinking of a trip to Colorado? |
FAQ:
Q: Roger, why do you keep mentioning the word "donation?"

A: Because although we expect lots of turnout for Arnie's presentation at our banquet, we're also paying for his airfare from Cuba. And, as you know, there aren't too many direct flights from Havana to Denver!!

Q: The CQC banquet takes place on the Saturday evening, February 16th. One of my favorite TV shows is on then, do you think I should just tape it so that I can attend the banquet??

A: YES! Any of CQC's officers will be happy to come by your house and program your VCR for you!!

Please E-mail Banquet Chairman Brad Mugleston, KIØOT, at kiøot@arrl.net for additional information.

Return to CQC Meetings, Nets and Events Page


Return to Banquet Information Page


Return to CQC Home Page


CQC Webmaster
Roger J. Wendell, WBØJNR
About | Contact | Home | Join | Meetings & Events | Members | Merchandise | Newsletter | Site Index |
Copyright © 1994 -