CQC
Photo Gallery
CQC Members on the Move!

(Click on any "Thumbnail" image for a larger view)


CQC Members and their shacks, gear and antennas!

Want your own 15 minutes of fame (as promised by Andy Warhol!)? Send pix of yourself,
your gear, your antennas, your achievements, your family, your DXpedition, or anything of
QRP interest and we'll post it here! Just contact your humble webmaster for the details!

| | |
| --- | --- |
| | Click Here for links to CQC members' web pages! |
One of the very few activations of Agrigan Island (Commonwealth of the Northern Mariana
Islands) in the history of the planet! WBØJNR (CQC # 007), K3TM, and KD8USU

| | |
| --- | --- |
| | Below are links to two audio recordings that were made available by AE5X (John) in Houston Texas. John and WBØJNR (Roger, CQC # 7) enjoyed a relatively long CW QSO at about 21:30 UTC on February 23, 2018. They were operating on 14.060 CW with each of them using an Elecraft - John's was a KX2 at 5 watts output and Roger's was a K2 initially set at 400 mW (when they first made contact) and then Roger turned his down to 100 mW at John's request. Band conditions were really good between Houston and the Denver area. John's RST, at the Golden location, was 589 with his first report to Roger, while Roger was running 400 mW, was 449. Thanks to improving band conditions (along with John aiming his yagi in the direction of Colorado) that report changed to 559 after Roger decreased his power output to 100 mW! In addition to the Elecraft's power output reading Roger also double-checked it with an HM-1 QRP Wattmeter so was confident of these measurements. John's atenna was a yagi up 15 metres (50 feet) while Roger's was a 27 metre (88 foot) ladder-line fed doublet up 2.4 metres (8 feet) on one end and 4.9 metres (16 feet) at the other end [Roger's QTH is on the side of a steeply sloping 2,089 metre (6,855 feet) "hill" near Golden, CO]. Using their locations and some internet distance calculations it turns out the two operators were 1,403 kilometres (872 miles) apart for an 8,720 miles-per-watt QSO! |

QST Congratulates KBØJFH (CQC # 047) on being awarded
the Young Scientist of the Physical Society of Japan for 2015!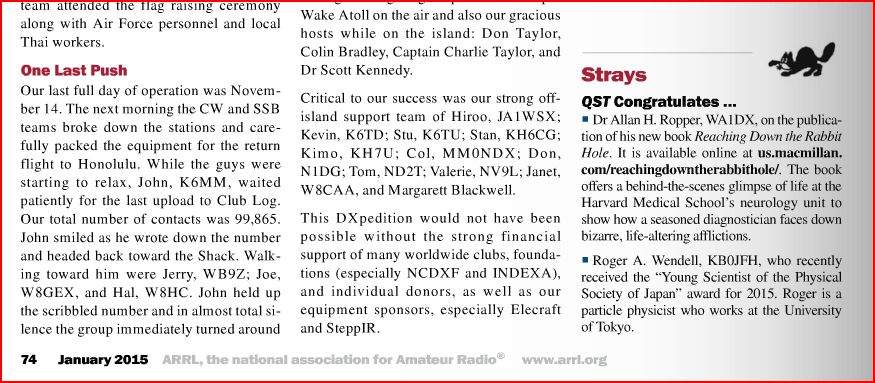 ABØCD (CQC # 155) CQ World Wide VHF contest 2013!
| | |
| --- | --- |
| | Our very own Dick Schneider, CQC #155 (ABØCD), Low Down editor, and author of Water (A Vic Bengston Investigation) came in as Number 1 in the Hilltopper category for the CQ World Wide VHF contest 2013! Linked, below, is the CQ article quoting Dick as saying, "First time VHF contesting. Stuck with QRP Hilltopper class. I am an HF QRPer. Arrow beam on 2 meters. Makeshift rotatable dipole - 50 cents worth of hookup wire and piece of pvc - on 6 meters. FT 817. Sat on the ground in the hills above Denver. What an absolute blast!" Congratulations Dick!! |
| | |
| --- | --- |
| | Click Here for the entire CQ article! |

Antarctica
| | |
| --- | --- |
| | WBØJNR (CQC # 7) made way to Antarctica in 2011. In this photo Roger is "pounding brass" in the radio room at the Port Lockroy museum on Goudier Island, Antarctica. |

One Watt above 14060 feet! (4,285 meters)
Roger,

I was granted a vanity call sign, NXØL, and request that it be used in the CQC membership database.

Since the Members on the Move section on the web site solicits photos and stories, I am including a few items from a recent hike up Mt. Bierstadt. I operated an FT-817ND (as WA1NLX) with a full 1/4 wave 20m vertical at the summit. The weather was a perfect fall day. I used only 1 watt (accidentally decreased the power during setup...) and worked a few stations on 20m SSB during the Texas QSO party. One station, ND5T, was 880 miles from Mt. Bierstadt, so I almost qualified for the 1000 mile per watt award. This was the first serious outing for a backpacking portable kit assembled this year. I put quite a bit of thought into the portable kit balancing weight, transmit power, and antenna efficiency. If there is any interest in the details, maybe for the Low Down, just let me know.

73,
Steve
NXØL (fmr WA1NLX)
CQC #895
&nbsp:

Here are pix of Jay Schwisow's (KT5E, CQC #784) visit to the Marconi site on Cape Cod - site of the first transatlantic transmission:
&nbsp:

Left: 9-Year-old Conrad with his dad, Scott Garcia (KCØHSV). Conrad is CQC member 858 and is proudly displaying his brand-new Technician class ticket and newly minted call sign, KDØHCS - Congratulations Conrad!

Right: Conrad puts the finishing touches on his code oscillator project.
&nbsp:


Jay, KT5E, #784
Jay Schwisow, KT5E, CQC Member 784

KT5E's beam with moon!
On Sunday, April 13, 2008 your humble webmaster took a trip way out east to the magnificent antenna farm of Jay Schwisow, CQC member #784. Jay lives a good distance east of Aurora/Denver and sits at an elevation of about 6,175 feet (1,882 metres) - it's a perfect location for line-of-sight communications up and down Colorado's front range and even affords Jay the opportunity of relaying a lot of the neighborhood's wireless communications - making his antennas that much more acceptable to surrounding homeowners!. Jay uses half inch hardline to feed a wide array of antennas on three large towers a hundred feet or so from his shack and home. Heavy duty grounding, excellent antenna switches and other features protect his home and office from lightning strikes. The surrounding area is beautiful and wide open with the occasional pronghorn antelope making its way across Jay's property every now and again!
&nbsp:
Here's Jay working on his 40 meter tower nearly 100 feet (30 metres) above his house!
| | | | | |
| --- | --- | --- | --- | --- |
| Jay, KT5E, #784 | QTH of KT5E | QTH and view to the west | Connecting caribiner | Separating mast from base |
&nbsp:
| | |
| --- | --- |
| | Click Here for a video of KT5E installing his new tower and 30 meter yagi! |

&nbsp:

Metta Inskeep, KE4YSK, CQC Member 749

Here's Metta, KE4YSK, keeping things together at the Inskeep family shack. OM NO2D writes, "Metta has been to some of the Chat & Chew sessions and attends our picnic. She also took a whole bunch of pictures, some of which are up on CQC's website"
&nbsp:

CQC Contesters!

Sweepstakes!
KIØRB presented CQC's very own Al Dawkins (KØFRP) with the 2006 ARRL Sweepstakes Single Operator QRP Colorado Section plaque at our annual picnic. (CQC Sponsored the award)

Dick Schneider (ABØCD) won the Mixed Mode QRP Single Operator Colorado Section plaque from the Pikes Peaks Radio Amateur Club's Summer QSO Party. CQC was the sponsor of the plaque in honor of Rich High - your humble webmaster hopes to post Dick's pix sometime soon!
&nbsp:

One man's generosity steadies others' paths
Handmade walking sticks can best high-tech canes
On June 04, 2007 Denver Post staff writer Joey Bunch did this great story on CQC's very own Nate Bushnell (KDØUE, member #66) and his charitable work with walking sticks. As many CQCers already knew, Nate has had a long time passion (and artistic ability!) in creating wonderful walking sticks that he donates to those in need. Mr. Bunch's article went on to say how Nate, at age 83, found a way to make other people's lives better - having given away over 100 custom-mae walking sticks.

The article also described how one of Nate's projects was to make adjustable poles for two Berthoud teenagers who lost their legs in a traffic accident earlier this year. Nate's first walking stick was for his own mother 18 years ago so she could get around the garden. Since then he has accumulated all kinds of bits and pieces (like a typical QRPer!) from old ski poles and bamboo canes to customize the sticks he carves to help others with balance, walking, and climbing stairs.

CQC Remains proud to have Nate as one of our long-time members!
| | |
| --- | --- |
| | Click Here for the entire Denver Post article on Nate! |
&nbsp:

CQC's very own Secretary, Vince Kumagai (KIØRB), came in First Place for QRP Phone in the ARRL's November, '05 Sweepstakes - Congratulations Vince!!

Click on this thumbnail image for a larger view of his award!
&nbsp:

Long-time CQC member (and now Silent Key) Yardley Beers, WØJF (CQC #57), received two full pages of coverage in the November 2004 issue of QST! The article covered Yardley's long history in not only Amateur radio, but his work as a PhD Physicist and even meeting Albert Einstein as well!

| | |
| --- | --- |
| | Click Here for the entire November '04 QST article! |
The Colorado QRP Club wishes to thank the ARRL for having given us permission to post such a wonderful article!
&nbsp:

Gabe Sellers (W2ZGB - CQC Member #12):
Gabe has really been on the move in his fight against Diabetes!

Gabe has jogged the equivalent of twice around the world's equator! Your humble webmaster, noting that his own waistline has been expanding lately, took keen interest in Gabe's story and how he controls his diabetes while staying in top physical condition on top of it (The Colorado QRP Club adds this common-sense disclaimer - don't undertake any strenuous activity or exercise without the guidance of your doctor!!):
Gabe started jogging for health reasons in February, 1979 at the age of 29 - a month after he discovered he had diabetes. Gabe said, "Jogging was something I had done before (once a week, weather permitting, if I felt like it). It was the exercise that gave the most bang for the buck (time put in). Jogging enough miles to circle the earth at the equator didn't become a goal, the first time or the second time, until the miles total got close first."

Gabe added, "The first diabetic that I ever knew of was myself. I didn't know anything about it. The first time I tried jogging, after I got diabetes, I had my first insulin reaction. My eyes dilated and I could barely see. I covered my eyes, walked back to my house, closed the curtains, put on dark glasses, and vowed never to jog again. I didn't understand what was happening. Eventually I figured it out. That was 49,830 miles ago."

When asked how he keeps track of the miles, Gabe says, "My first routes were along the streets. I was able to measure the length of the routes using my car's odometer. When my route started using Northglenn's Northwest Open Space, I measured the length of the route using my bike's odometer, which gave me numbers consistent with my car. I recorded the miles in my diabetes log along with my insulin doses and blood sugar measurements so I could see how they related. At the end of 1979 I wondered what I would get if I added up those miles numbers. Holy Mackerel! Since then, I totaled up the miles at the end of each month (for the month, for the current year, and since I got diabetes, are the numbers I record in my diabetes log)."

Gabe completed his first jog, equivalent to a trip around the Earth's equator, in 1993. Gabe says, "The mile numbers were low at first as it took me years to build up to 15 miles a run, what I do now." Gabe mentioned that he'll be cutting the mileage back to a "mere" 10 miles a run sometime soon. When asked about his overall health Gabe said, "I am disgustingly healthy. Heart disease is usually what ends up killing a diabetic because it damages the circulation. My first cholesterol measurement back in the 80's was 81. My diabetes doctor said my chances of having a heart attack were "zero". This year my cholesterol was measured at 128, with the HDL being 62 and the LDL being 57. These numbers are superb."

When your humble scribe asked Gabe what he'd like to add he said he'd like to show us a little fun with numbers. At 50,000 miles (what he'll have run by the end of September, 2004) times 100 calories per mile (for his body weight) equals 5 million calories burned jogging. 5 million calories divided by 3500 calories per pound of fat equals 1428 pounds of fat. Gabe said, "That is how much more I would weigh if I hadn't been jogging. Obviously, I also eat more than most people!"

Gabe is certainly an inspiration to not only the diabetes community, but "couch potatoes" like your club's webmaster! Gabe has been active with our club ever since it's first meeting back in 1994 in addition to maintaining a huge collection of TenTec QRP gear!

Keep on Truckin' Gabe!
WBØJNR
CQC Wembaster
&nbsp:
Note and Follow-up:
Jogging Around the World Fighting Diabetes
Gabe's hometown paper, the Northglenn Connection (November 2006, Volume XXXXVIII p. 7), ran a similar article about his health and running for all of his neighbors and fellow citizens to read. One change, since WBØJNR interviewed him in 2004, is that his total mileage is now at 53,000!
&nbsp:

Jake Groenhof (NØLX - CQC Member #720):
Jake has worked hard at not only putting QRP "on the
map" but is having heck of a lot of fun doing it to!!
| | |
| --- | --- |
| | Click Here to hear Jake in a cross-country QRP SSB QSO with N3HQB! |
| | | | |
| --- | --- | --- | --- |
| | Here Jake makes the front cover of Great Britain's "Radcom" Magazine!! (April, 2004) | | Here's NØLX operating QRP in Hawaii, April 2004 |

(Please remember to never look at
the sun without proper equipment!)
Jake took this photo of sunspots during a VERY active phase of the sun on October 24, 2003.

Click Here for a detailed description, in MS Word, from NØLX himself...
| | |
| --- | --- |
| | Click Here to Jake's homepage! |
&nbsp:

Marshall Quiat AGØX - CQC Member #208 (sk)
Larry Agabekov N2WW - CQC Member #515
With permision:
Photo by Bruce Frahm - KØBJ


Left: Marshall Quiat (SK)
Right: Larry Agabekov


Marshall and Larry chatted at the ARRL's May/June 2003 Rocky Mountain Division
HamCon in Estes Park, Colorado. Marshall is the former director of the ARRL's
Rocky Mountain Division and Larry (N2WW/UA6HZ) was the head of SSR, the
Russian equivelant of our own ARRL!


A "Thank You" note from the
Denver Radio Club for our
October, 2010 presentation.

Return to the CQC Bulletin Board Page


Return to the CQC Photo Gallery Index



Return to CQC Home Page



CQC Webmaster
Roger J. Wendell, WBØJNR
About | Contact | Home | Join | Meetings & Events | Members | Merchandise | Newsletter | Site Index |
Copyright © 1994 -